Travellers usually take a plane and wait for their vehicle to arrive whilst it's transported by boat. However, on some journeys, particularly between the UK and America, you can board the same ship as your vehicle. It's more expensive than a plane ($1,000 (£750) or $1,800 (£1300) per person according to the type of cabin for Antwerp (Belgium) to Halifax (Canada) with Seabridge for example).
If you think of this trip as a two-week "cruise", it's not that expensive: around $50 (£40) per day for full board. It's an unforgettable experience and what's more, you'll be able to keep an eye on your vehicle during the stopovers.
You can find IVSS passenger fees for routes from Europe – South America here: Shipping Europe to South America RORO & Container.
You need to book your ticket way in advance, as ro-ros and container ships have very few cabins available for passengers.
For kids, the minimum age ranges from 3 to 16 years old depending on the company.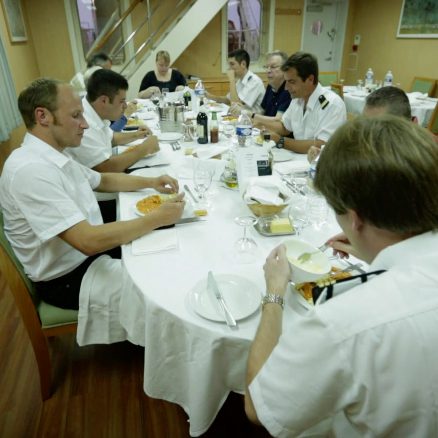 Travelling on a cargo ship is an unforgettable experience