Coming home from a RTW trip is a good opportunity to throw a big party with your family and friends. Some RTW travellers even come home a little earlier than their "official" return date so that they can surprise their loved ones.
You're happy to see them again after so much time away and it feels like you just left them yesterday.
When travelling, you meet loads of people, but these relationships rarely last that long. So it feels good to go back to your loved ones, knowing that these relationships have stood the test of time and distance.
However, many travellers are disappointed by the lack of interest that their close ones take in their adventures. Not everyone wants a detailed account. Many ask a few questions, often the same ones, like, "Which was your favourite country?", or, "What is the must-see place?", and then quickly move on to what's happening in daily life.
Sometimes you'll just be asked, "Was it good?", as if you'd gone on holiday for two weeks. The subject of travel is quickly put aside even though you'd love to talk about it for hours on end. You may feel like you're the only one who really understands what you've been through, without even being able to explain it.
When you were away, your friends and family learnt to make do without you, so it can be tricky to find your place again.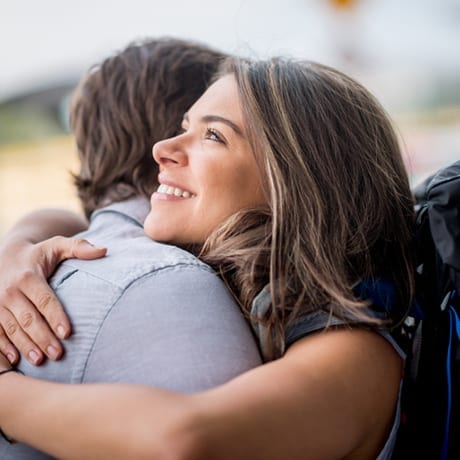 It feels good to be back with the ones you love
For them, nothing has changed. Whereas, for you, you feel like you're a different person. Some ex-travellers find it difficult to reintegrate into society. They feel detached, out of step, sometimes misunderstood, a bit like foreigners in their own country. They feel like they're stuck with narrow-minded people who seem to be opposed to external ideas. It's not easy going back to hanging out with people who are like you. You miss meeting random, open-minded people on a regular basis.
When you come home, you'll sometimes encounter a lack of understanding about your travel or life choices. Your post-travel blues may seem illegitimate in the eyes of your close ones, as for them, you're coming back from a year-long "holiday". Some will judge you or even lecture you: "What are you going to do now? Are you looking for a job?".