Rather than travelling by plane and local transport, some globetrotters prefer to set off with their own vehicle. You can make huge savings on plane tickets by choosing an alternative mode of transport.
On average, travelling by bike is a lot cheaper than flying, even when you include the purchase of equipment. However, the amount of money that globetrotters spend on their bikes and equipment massively varies. We know some people who got away with £400 ($500 – €470), whilst others spent over £5,000 ($6,200 – €5,800).
Lots of families and some couples opt for a motorised vehicle for their round-the-world trip: camper van, truck, kitted out van, 4×4, sailboat… Once again, the investment varies a lot depending on the type of vehicle: from £2,000 ($2,500 – €2,300) for an old kitted out van, to more than £250,000 ($320,000 – €300,000) for a top-of-the-range 4×4 truck.
If you choose to travel with your own vehicle, you can travel to continents that are connected to yours by land or cross the ocean to another continent and buy a local vehicle there.
If you want to do a proper round-the-world trip with your vehicle, you'll need to factor in a significant additional budget to transport it by cargo ship from one continent to another. You'll also need to pay for plane tickets, as it's usually not possible to board the ship with your vehicle.
To find out more, take a look at our articles on travelling by bike and hitchhiking.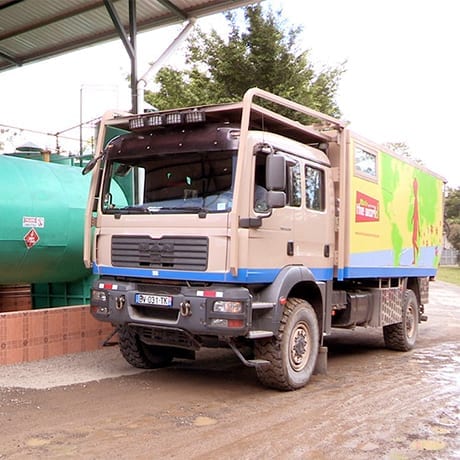 The best of the best: 4×4 expedition truck, that'll set you back more than £250,000
Crédit : Martin around the World