Top: outer layer
On average, RTW travellers take two top outer layers: a warm jacket or a down jacket + a waterproof jacket or a poncho. There are also waterproof jackets with removable down jackets (2-in-1).
Waterproof jacket (hardshell)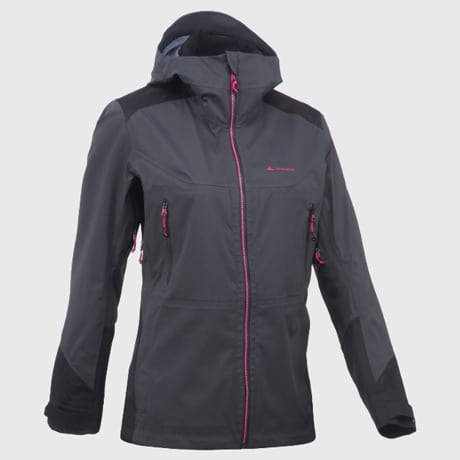 Quechua waterproof jacket
During a RTW trip, you'll probably face some heavy rain, for example, during the monsoon season in Asia. So, most RTW travellers take a jacket to protect themselves from the rain.
Your waterproof jacket won't heat you up, which is welcome in hot countries. If you plan on crossing cold areas, you can put it on over a fleece and a synthetic or merino T-shirt. So this is the famous three-layer system that's also known as dressing like an onion.
There's a huge range of waterproof jackets: from basic windbreakers to technical mountaineering jackets.
It's important that your jacket is light and breathable enough so that it doesn't turn into a sauna when it's hot.
Poncho / Rain cape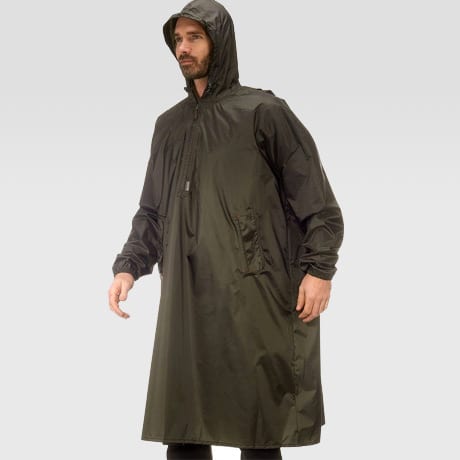 Arpenaz Poncho
Ponchos have a hole that you slip your head through, whereas capes are put on the shoulders and hang in front.
Basic, non-breathable models only cost a few dollars / pounds. You can put them over your backpack to protect it. What's more, as they're long, they also protect the upper legs.
But ponchos and rain capes have several drawbacks. They tend to fly away the second that there's a bit of wind. They're not easy to put on, they restrict movement and they easily snag on bushes or branches. Finally, the cheaper models are completely waterproof, which means that they quickly turn into a sauna as soon as you start to sweat.
In view of all these drawbacks, we advise you to use a waterproof jacket and your backpack's rain cover instead. If it doesn't already have one, you can buy one separately.
Warm jacket (softshell)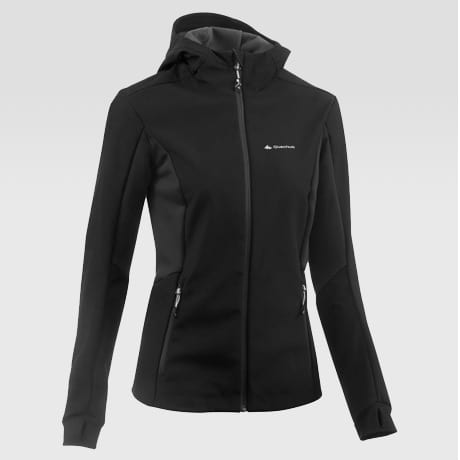 Quechua Softshell Jacket
Warm jackets are often water repellent, but they won't keep you dry in the event of prolonged rain. On the other hand, they'll protect you from the cold and the wind.
Warm jackets can be worn directly over your T-shirt or over a thin fleece. They normally have a fitted cut and are made from stretch fabric, which accommodates movement.
They're useful if you mainly do physical activities like hiking or biking, in cold weather, but not too humid.
Ultra-light down jacket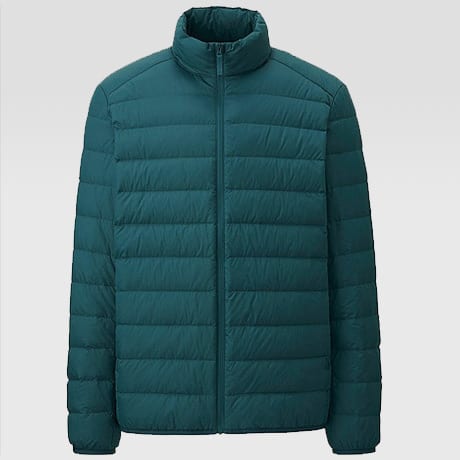 Uniqlo Ultra-Light Down Jacket
An ultra-light down jacket can be a comfortable alternative to a warm jacket. There are ones with or without sleeves and with or without a hood. The ones with sleeves and a hood will be warmer, but also a little heavier.
Down has an amazing warmth-to-weight ratio and compresses easily. On the other hand, it absorbs moisture and loses its insulating quality if it gets wet. Moreover, it requires a delicate wash, without spinning or machine drying.
The down performance depends on four criteria:
Type of down: goose down is generally better than duck down.
Down-to-feather ratio: so that the down keeps its loft factor, it always contains a certain percentage of feathers. For example, 80:20 means that the lining is made up of 80% down and 20% feathers. The higher the down percentage, the better the performance.
Loft factor: it's measured in cu in (cubic inches). It can go from around 550 to 900 cu in. The higher the figure, the more carefully the down has been chosen and therefore the higher the quality.
Compartmentalisation: to prevent the down from building up in certain areas, down jackets are compartmentalised. The more compartments there are, the more the padding stays in place and therefore the better the down jacket performs.
Top: middle layer
On average, RTW travellers take one top middle layer.
Fleece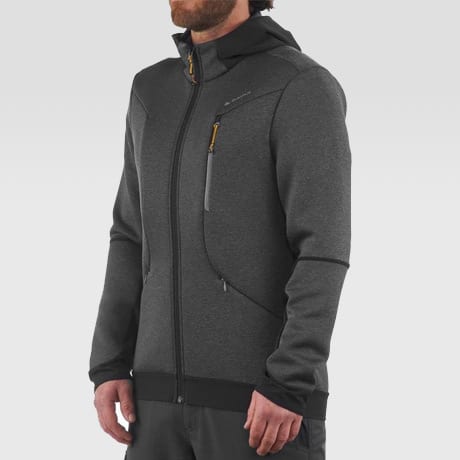 Quechua Fleece
Fleece fabric is warm, comfortable and light. It's breathable and dries quickly. However, it doesn't protect against wind nor rain.
The thicker the fleece, the warmer it is, but less breathable. Fleece jackets can be sorted into three categories according to their weight: thin (100 g / m²), medium (200 g / m²), thick (300 g / m²).
Not everyone is a fan of the look of baggy fleeces, but nowadays there are fitted fleeces, with or without hoods, that look neater.
There are also stretch fleeces, a little more expensive than the others, but which offer greater freedom of movement.
The zip can be ¼ or full. A full zip is a bit more expensive, but allows for more ventilation and is easier to put on.
Sweatshirt
With a fleece, some RTW travellers feel like they're dressed as hikers and therefore prefer the look of a sweatshirt. However, it doesn't offer the same performance as a fleece. It's not as warm and it doesn't dry as quickly.
If you plan on staying in warm areas, a sweatshirt may do the job. More than half of RTW travellers only take one top (fleece, sweatshirt or sweater). For weight reasons, we advise you not to take a fleece and a sweatshirt.
Sweater
A thick wool sweater is warmer than a sweatshirt. However, it's heavier than a fleece and dries less quickly. A light sweater allows you to have a slightly dressier outfit, but avoid taking several top middle layers to limit the weight of your bag.
Top: base layer
On average, RTW travellers take six top base layers.
T-shirts / Vest tops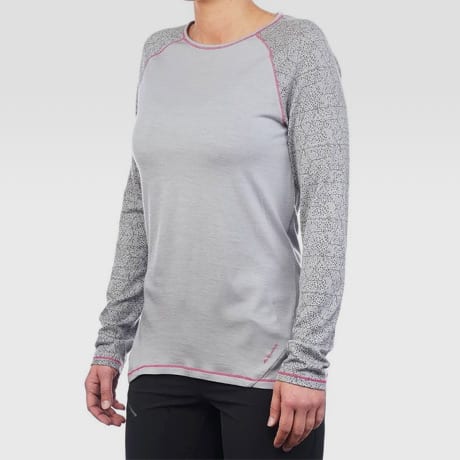 Forclaz Techwool T-shirt
Take at least one long-sleeved T-shirt to protect yourself from mosquitoes in the evening.
We advise you to take merino wool T-shirts.
The only downside to merino wool T-shirts is their price: at least $20 (£15) for a short-sleeved T-shirt and $23 (£17) for a long-sleeved T-shirt and even more for 100% merino. However, this material has so many advantages that we think it's worth it:
Smell: merino wool is naturally antibacterial. It's pretty amazing when you wear it for the first time. Even after using it for three days, a merino T-shirt barely smells at all. When travelling, this is a really big advantage, in comparison to synthetic T-shirts which smell bad very quickly.
Warmth: a merino T-shirt is much warmer than a cotton T-shirt and is usually warmer than a synthetic T-shirt. This is really handy in cold areas or during treks at altitude. The performance depends on the weight of the wool, usually from 150 to 250 g / m².
Breathability: merino absorbs moisture and transfers it to the outside whilst keeping your body warm.
Drying: merino dries a little slower than synthetic material, but a lot faster than cotton.
Comfort: you might think that a wool T-shirt is itchy, but this isn't the case at all. Merino wool fibres are much finer than those of classic wool, which makes merino T-shirts very pleasant to wear.
Polo shirt
Sometimes, even when travelling, you want to be a little more dressy. Some travellers therefore take one or several polo shirts. However, remember that you won't be able to iron them.
Shirt
A shirt is more airy than a T-shirt, it'll protect your arms from the sun and keep you cooler than a long-sleeved T-shirt. It'll come in handy in the evening in areas where there are lots of mosquitoes, as you can roll down the sleeves.
You can go for a linen T-shirt, which is nice and breezy when it's hot, even if it creases more easily in your backpack.
A shirt can have a dual purpose: directly on the skin when it's hot or over a T-shirt or a vest top when it's cooler.
For women, having a loose-fitting, long-sleeved shirt hides your body shape, which makes it relatively versatile in more conservative countries.
Bottom
On average, RTW travellers take four bottom items of clothing.
Trousers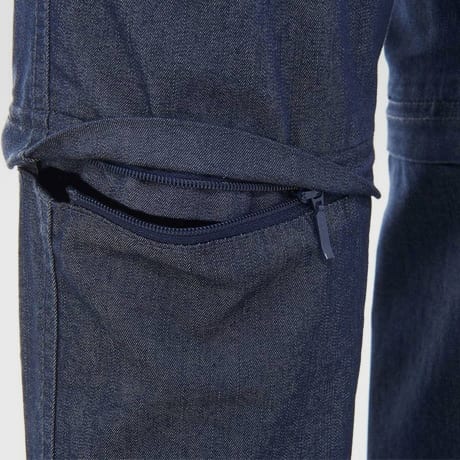 Zip-off trousers reduce the weight of your bag
If you plan on doing hikes at altitude, opt for hiking trousers. They're light, hard-wearing and dry quickly. Unlike jeans, they don't cling to your skin and don't hinder your movements when you walk.
There are zip-off hiking trousers that turn into shorts. Not everyone is a fan of the style, but they're really handy for reducing the weight of your backpack, as you can then pack one less item of clothing.
Jeans and chinos are heavier and dry more slowly than hiking trousers. However, many travellers take a pair as they don't want to be dressed like a hiker all the time.
In countries where it's frowned upon to show your legs, you can also buy lightweight canvas trousers that'll keep you cooler than jeans or hiking trousers.
Shorts
If you travel in hot countries, you'll probably spend most of your time in shorts. You don't necessarily need to buy some especially for your RTW trip, the ones you have in the back of your wardrobe will surely do the trick.
Tights / Leggings
They can be worn with a skirt, dress, shorts, tunic, long shirt or underneath trousers if it's cold. They don't hamper movement and are therefore well-suited to hiking.
Skirt
A skirt is nice to wear when it's hot. A long skirt is a good option in countries where it's frowned upon to show your legs or for visiting temples, as they're cooler than trousers.
Some skirts can be pulled up to the chest and then become beach dresses.
Dress
A dress is nice to wear when it's hot. It can replace shorts and a T-shirt / vest top.
Like a long skirt, a long dress is a good solution in countries where it's frowned upon to show your legs or for visiting temples, as they're cooler than trousers.
And what's more, even when you're travelling, you might want to wear a more stylish outfit for going out.
With a maxi dress and just a few key items, it's easy to get a ton of different looks.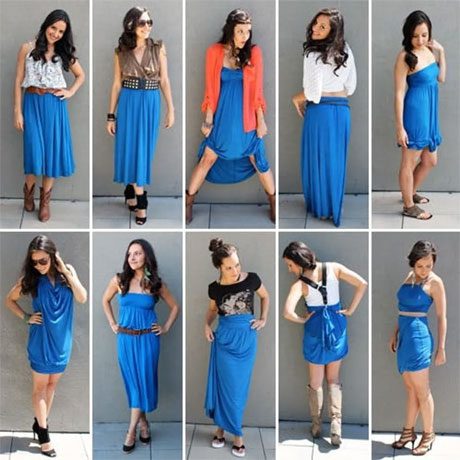 10 Ways to style a maxi dress
Credit: brit+co
Underwear
Sports bra / Bra
Take the models you feel most comfortable in. You can take sports bras for physical activities.
Knickers / Pants / Tangas / Thongs / Underpants / Boxers
Just take the models you feel good in, even when it's hot.
Socks
During your RTW trip, you'll spend a lot of time in flip-flops, so don't pack too many socks.
Compression socks
If you have circulation problems, your legs and feet tend to be heavy and swollen on long plane journeys, you can also take compression socks.
They apply constant pressure to your foot, your calf and your leg, which helps maintain and increase blood flow by pressing on superficial veins. In this way, you'll reduce the risk of thrombosis.
Shoes
Flip-flops or sandals are really useful in hot countries. They'll probably be the pair you'll use the most during your trip.
If you intend on doing hikes, you'll also need a suitable pair of shoes. High walking shoes provide good support but are heavy and not recommended for prolonged use as they weaken the ankle muscles. Lighter, low walking shoes or trail shoes are just right for a RTW trip. There are also hiking sandals that may be adequate for day hikes in hot areas.
On average, RTW travellers take two or three pairs of shoes. We advise you, if possible, to limit yourself to two pairs.
From our point of view, the best combination is:
Flip-flops (or sandals)
Trail shoes (or low walking shoes)
+ potentially a pair of sandals (or a pair of light canvas trainers)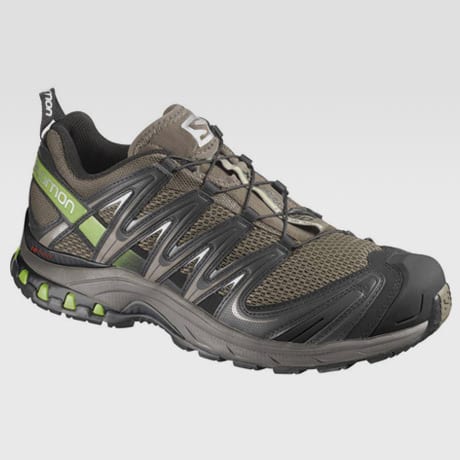 Salomon XA Pro 3D Trail Shoes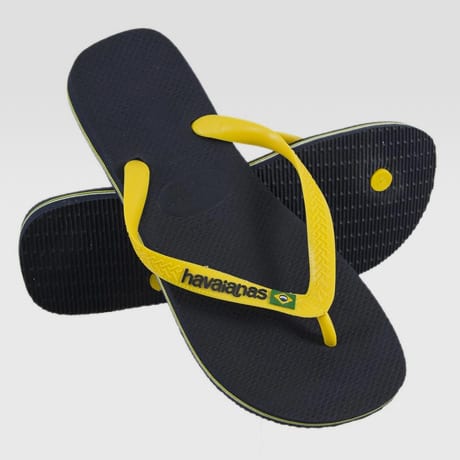 Havaianas Flip-Flops
Accessories
Swimwsuit
Unless you're just doing a RTW trip through the Arctic Circle, a swimsuit will come in really handy.
Woolly hat
If you plan on going through cold areas, you can take a hat. However, if you don't go through these areas at the start of your trip, you'll easily be able to buy a cheap one out there. This will save you from having to carry it throughout your trip.
Cap
A cap will be really useful to protect you from the sun in hot countries.
Hat
A hat has the advantage of better protecting your ears and neck from the sun. After all, it's a matter of aesthetic taste.
Bandana
It helps protect your nose and mouth from dust. You can also wear it on your head to protect yourself from the sun.
Headscarf
It can protect you from dust and the sun. It can also cover your head or shoulders in countries or places where it's frowned upon to leave them exposed. Rolled into a ball, it can also be used as a pillow. A sarong can also serve as a headscarf.
Scarf / Neckwarmer
Just like the woolly hat, they're useful in cold areas, but you'll be able to buy them locally if you start in warm areas.
Gloves
Useful to protect your hands in cold areas, but you can also buy them out there.
UV protection T-shirt
This type of synthetic material T-shirt is specially designed to be worn in water. It's really useful for snorkelling. It'll prevent you from getting sunburn on your back and keep you warm. It can also be worn under a wetsuit.