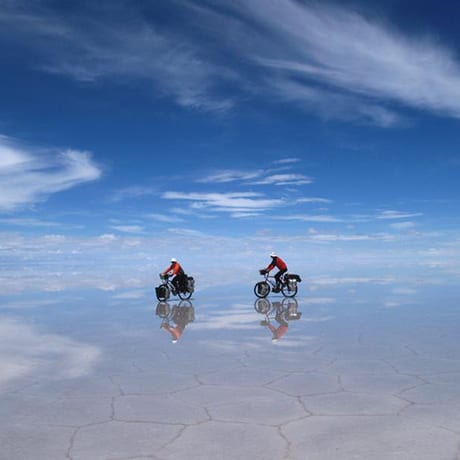 Perhaps I could do a RTW by bike…
The best way to lessen your impact on the environment is by travelling by a means of transport that doesn't emit CO2. Even if they're in the minority, several globetrotters travel the world by sailboat, by bike or on foot. Beyond the environmental impact, these means of transport are cheaper, more sporty, closer to nature and they allow you to really get off the beaten track.
You can also choose to travel by cargo ship instead of by plane to go from one continent to another. Even if cargo ships pollute, it's considered that this means of transport emits almost no CO2 per traveller, because your weight is insignificant in relation to that of the goods being transported.
On the contrary, travelling by liner or ferry is extremely polluting, because the immense weight of a ship has to be moved for passengers only. According to the NGO Climate Care, a liner emits two times more CO2 per passenger than a plane for the same distance.
Cars, vans, camper vans or motorbikes, even though they still pollute, emit less CO2 per kilometer travelled per person than a plane. For example, a return trip of a family of four from Europe to Southeast Asia (around 20,000km (12,427miles)) with a camper van which consumes 12L/100km (19.6 US miles per gallon) emits just over 6 tonnes of CO2, or 1.5 tonnes per person.
A return trip from London to Bangkok in economy class by plane emits the equivalent of 3.5 tonnes of CO2 per person, so that's more than double. Cargo ship vehicle transfers between continents emit a relatively small amount of CO2: around 0.3 tonnes to transport a 3 ton camper van between Sydney and Valparaiso for example.