Taxi / Tuk Tuk / Rickshaw
The country or countries in brackets indicate where the scam takes place, and this is based on responses from our survey. But, it's very likely that it's also used in other countries.
The driver says that the tourist attractions you want to visit are closed today and takes you to shops or travel agencies that pay them a commission. (India, Thailand)
The driver offers to give you a city tour for next to nothing, but stops off in shops that give them a commission, and sometimes dumps you there if you don't buy anything. (Thailand)
When you ask the driver to take you to a specific hotel, they take you to another hotel which sometimes has the same or a similar name to get a commission. (Vietnam, Myanmar, Guatemala, India, Indonesia, Thailand, Laos)
The driver stops and tells you that the city centre is blocked because of a protest or terrorist threat, then they offer to drop you off at another hotel or a fake travel agency to get a commission. (India)
The taxi driver makes several detours to increase your fare. (India, Colombia, Sri Lanka)
You book a taxi specifying a price, but when the driver arrives, the price has gone up. (Peru)
The driver suddenly brakes to cause an accident and makes you pay for their car repair, but the car was already dented before. (Peru)
You negotiate with the driver. They accept the price, but they only take you halfway there by lying about the location. (Laos)
A fake taxi pretends to be an official taxi and charges you more than the legal fare. (China, Chile)
On arrival, the driver asks you for a larger sum of money than that agreed upon departure. (Peru, Vietnam)
The taximeter is rigged and shows a fare that's way too high. (Brazil, Vietnam)
The driver is arrested by the police for speeding. They act as if they don't have any money and ask you to pay the fine. (Vietnam)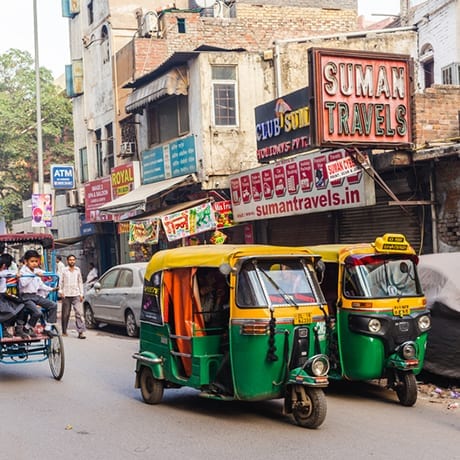 Rickshaw drivers can get pretty creative
During a ride to the airport, the driver stops mid-journey and asks you for money to continue driving, and if you don't, you'll miss your flight. (Philippines)
You pay for a return trip up front, but the driver never comes back to pick you up. (Indonesia)
You rent a vehicle with a driver. They ask you to pay for petrol, then refuse to drive you once the tank is full. (Laos)
A private taxi makes out it's your prepaid shuttle at your hotel's exit. You then have to repay the fare. (Tanzania, Thailand)
On the way from the airport, the driver asks for money on top of the fare price for a so-called airport tax. (Mexico)
The driver doesn't reset the taximeter to zero at the start of your ride. (Vietnam)
Look into local fare prices in advance by reading a guidebook, asking at your hotel or other travellers.
Have your destination written in the local language on you, or at least make sure you can pronounce it correctly.
Always have change on you before getting in.
Only take official taxis, or use Uber or Lyft, and write down or take a picture of their number.
If there's a taximeter, check that it's at zero when you get in and that it's running once you set off.
If there's no taximeter, negotiate and agree on the price before getting into the vehicle.
Never pay in advance.
Beware if the suggested price is suspiciously low. The driver is bound to take you somewhere to get a commission.
If the driver doesn't inspire confidence, get out a map or your smartphone and follow the route.
Never agree to go to a hotel, restaurant or shop that the driver recommends. Tell them that you already have a booking, even if it's not true.
For trips to or from an airport, use public transport whenever possible.
If the driver tries to put one over on you, be firm and stay calm.
If you can't get them to see sense and you've made it to your hotel, get the staff involved so they can help you, otherwise just get out of the vehicle.
Travel agencies / Tour guides
A travel agency advertises itself as an official tourist office, but it's actually private and charges unreasonable prices. (India, Thailand)
A fake guide offers extortionate and unexciting tours. (Thailand)
A fake guide sells you a boat trip for an attractive price. They ask you to pay for the service the day before. The next day, they're not in the port and no one has heard of them. (Cambodia)
At a tourist attraction, someone starts to give you lots of information and detailed explanations, then asks to be paid. (Myanmar)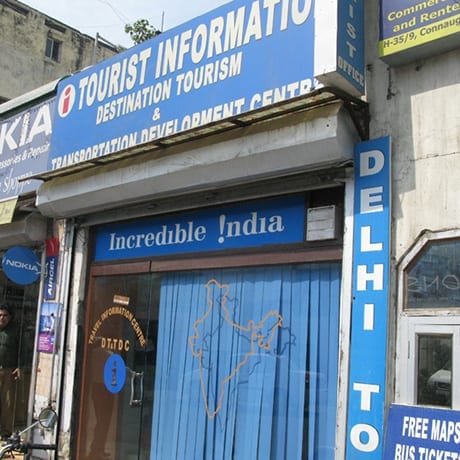 A "100% official" Indian tourist office.
Credit: Leave me here
The concept of an official tourist office doesn't really exist outside of wealthy countries. In Asia, Latin America and Africa, agencies that advertise themselves as "official" are usually just private companies.
Where possible, avoid going through agencies, don't let yourself be tricked by ticket touts.
If you have no choice but to go to a travel agency, find out about the standard prices from a guidebook, your hotel or other travellers before going there.
Always compare prices between different agencies.
Check customer reviews online before choosing your agency.
Shops / Restaurants / Hotels
Prices are inflated for tourists. (almost all countries)
In a restaurant, the waiter or waitress increases your bill, adds dishes or an imaginary tax. (Argentina, Cambodia, Indonesia, Peru)
The shopkeeper is "mistaken" in the change they give you. (Brazil)
When you pay by card, the price is different from that displayed in the shop. (Brazil)
Someone offers you a bag of seeds to give to the birds. You refuse. They put the seeds in your hand by force. The bag then falls from your hand, the seeds scatter everywhere and they ask you to pay for them. (Thailand)
The sales assistant lets you open the box to look at a camera, but once you turn it on, they threaten to call the police if you don't buy it from them.
At the reception in a hotel, you're checked in with a date prior to your arrival date. When you leave you're shown the check-in book, with the false arrival date, and asked to pay an extra night. (Thailand)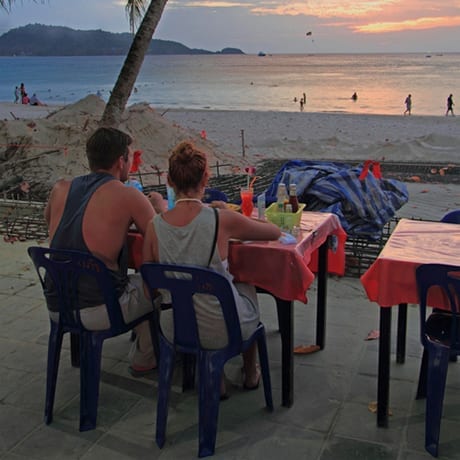 Weren't you told that there was a tax for the sea view?
When the price is displayed, always check that what you're being charged is right.
When the price isn't displayed, let locals buy before you, see how much they pay and give the same amount.
When you negotiate, do it with a smile, set yourself a goal – sometimes agreeing to pay a little more than the locals – and leave politely if you can't reach an agreement.
Always count your change straight away, in front of the person giving it to you.
Help us make this list more complete
If you've been the victim of a scam or an attempted scam that isn't listed here, let us know in the comments. We'll add it and this'll prevent other travellers from falling into the same trap.