There are several websites with pretty similar names and which work in relatively similar ways: mainly Bestonwardticket et Onewayfly, , but also others which are lesser-known, like Onward Ticket Visa. FlyOnward, the first website of this kind, no longer exists.
The principle
The aim is to pass off a ticket booking as a real ticket.
For barely $14 to $23 (£10 to £17), you can buy an "official" plane ticket booking which looks like an e-ticket and which'll serve as proof of leaving the country. For example, if you go to Thailand, you book a flight from Thailand to another country.
From the moment you receive it by email, the booking only stays active for a limited amount of time: 48 hours with Bestonwardticket and up to two weeks with OneWayFly. Therefore, you have enough time to use it as proof of onward travel when you check-in before departure and to go through customs on arrival. If the PNR (Passenger Name Record) number is checked after this period, the status will come up as cancelled.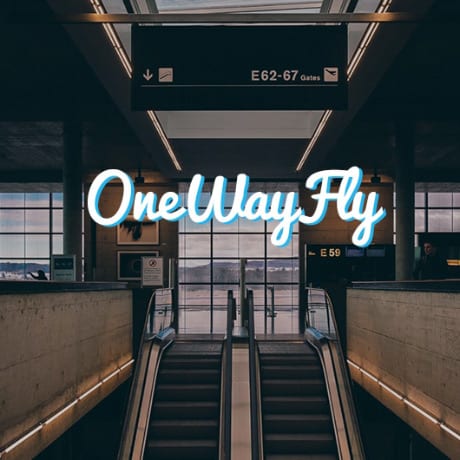 Onewayfly, a way to deal with the proof of onward travel problem
Is it a real ticket?
No. It isn't a real ticket or an e-ticket. It involves a simple flight booking from an airline. Only travel agencies can make these bookings and that's the case for OneWayFly and BestOnwardTicket. Onewayfly's FAQ page isn't very clear in relation to this information, and BestOnwardTicket dishonestly maintains that it's a "perfectly legitimate flight ticket". The booking is real, it has a PNR number that you can enter into the airline's website which it was made on. A page then appears, which shows all the flight details. Once this page is printed, it really looks like a real ticket.
But, what the airport check-in staff are asking for is a real ticket, and not just a booking. This technique is therefore a matter of craftiness – you need to show a booking that you can easily pass off as a genuine ticket. However, if the check-in staff thoroughly inspect the ticket, they'll be able to see that the ticket has only been booked, and still hasn't been paid for. In fact, the booking doesn't have a 13 figure number which proves that the ticket has been paid for.
Is this a reliable technique?
Amongst our readers, we've received dozens of accounts from RTW travellers who've used this method and who've been asked for proof of onward travel at check-in. For the vast majority, everything went smoothly when they showed their BestOnwardTicket or OneWayFly ticket for proof of onward travel.
Here are some destinations which we had positive feedback from: Thailand, Argentina, Colombia, Philippines, Vietnam, USA.
If you believe Truspilot's reviews of Bestonwardticket 3 % seulement des utilisateurs ont eu des problèmes à l'embarquement.
We also received a handful of accounts from people who said that this technique didn't work. The destinations which we received negative feedback from are: Greece and China.
That said, we can assume that it's not really the departure country, the destination, or the name of the airline where you check-in that increases the risk of being rigorously checked, but rather the thoroughness of the staff themself.
If, by any chance, it doesn't work
As explained earlier, it isn't a foolproof technique. There's a small chance of being stopped at check-in. In this case, you'll only be asked to buy a real ticket and go back to the check-in desk. Therefore, we recommend that you get to the airport well in advance so that you have time to do this.
This is extremely rare, but when you arrive at your destination, you may be controlled by a customs officer who also asks you for proof of onward travel. We suggest that you avoid being crafty with them. You should tell them the truth and that you'd planned to buy your departure ticket later. In the worst-case scenario, they'll probably ask you to simply buy a departure ticket out of the country there and then.
How does it work exactly? a step-by-step guide
I'm going to Sri Lanka. This destination makes it more likely I get asked for an onward ticket. I only bought a one-way ticket. So, I buy an onward ticket from OneWayFly or BestOnwardTicket that leaves from Sri Lanka.
I put the departure country on the onward ticket
Of course, this depends on which country I'm going to. My aim is to prove that I really am going to leave this country. So, I specify Sri Lanka.
I specify the destination on the ticket
By default, on BestOnwardTicket, it'll be chosen randomly. To be safe, I prefer to choose it myself by paying a few extra dollars. I select a non-bordering country which doesn't require a visa to be done before arrival, or even my home country.
I specify the departure date on the onward ticket
I want to avoid awkward questions. So, I make sure that I don't put a date that's too close to my arrival in the country, and definitely not the following day. I also make sure that this departure date doesn't exceed the maximum legal length of stay in the arrival country. Specifying a departure date 15 days after your arrival is always a good idea wherever you're going.
I choose the day to receive the ticket
With BestOnwardTicket, the ticket is only valid for 48 hours from when you receive it, after this time it's automatically cancelled. It's absolutely essential that it's still valid when I go through the last customs controls when my flight arrives. I do it a few days in advance, but I ask that I only receive the proof of onward travel on the departure day and at a time that allows me to print the ticket before heading to the airport. If you can't specify a date to receive it, the proof of onward travel is sent as soon as possible after the payment. This is in 60 minutes max. for BestOnwardTicket and within 24 hours for OneWayFly.
Receiving the proof of onward travel
I receive an order confirmation straight away and, on the specified reception date, Bestonwardticket sends me my proof of onward travel by email. I prefer using the PNR code on the specified airline's website and printing my proof of onward travel from there. I think it's more credible than just showing an email sent by OneWayFly or BestOnwardTicket.
I've tested bestonwardticket
It took me less than a minute to make my purchase. I didn't use the option which allows you to ask to receive your proof of onward travel later. I received mine in 5 minutes. You can see the document I received via email by clicking here.
I immediately checked its validity by going to the airline's website and logging in with my booking codes. I received confirmation that my ticket had really been booked. I can see a box that says "status confirmed". It really looks like a genuine ticket. You can see the screenshot by clicking here.
Our opinion and that of rtw travellers
This technique isn't that different from that of making a fake ticket. Theoretically speaking, it's more likely to work than a fake ticket, since it has a real PNR number. The technique has proven its worth for many people. It's extremely convenient, quick, and cheap, but you're still running a risk.
We'd only use this technique for a country that isn't too fussy, where the risk of being rigorously checked is low. Make sure you check-in during busy periods to maximise the chances that the check is not overly thorough.
When circumstances permit, that is to say for a journey that isn't too long and you've got enough money put aside, then we advise you to opt for the refundable ticket solution which will refund you the full amount if the ticket is cancelled within 24 hours after the purchase, and which we spoke about earlier.