The provodnitsa
The provodnik or provodnitsa is in charge of the carriage. It's usually a woman. She welcomes passengers on board.
She takes care of cleaning the bathrooms. She makes sure that the samovar (urn) always has hot water available. She brings you your sheets. She might sell some food and snacks. She even comes to wake you up when it's time for you to get off.
Bedding
A sheet, a pillow, a pillowcase and a towel are almost always provided. When this isn't the case, the provodnitsa will offer them to you for just a few dollars / pounds.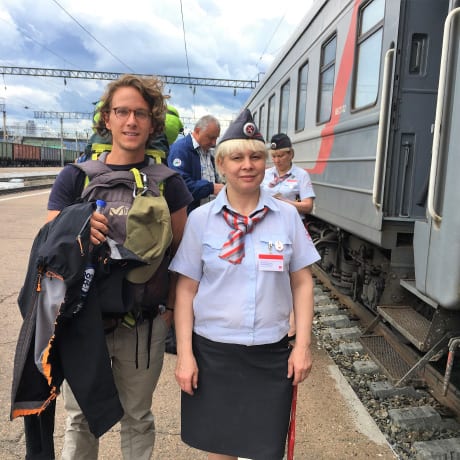 A provodnitsa next to her carriage
Credit: Christophe Vadot
The Samovar
In every carriage, there's a large samovar at the end of the corridor. It's a typical object of Eastern countries that's used to heat water. It's there so that you can fill up your cup of tea or your pot of instant noodles.
Drinking water
Sometimes there's drinking water available in front of the samovar. Water from the bathroom sinks is not drinkable. To be sure to have fresh water, you'll need to have your own water bottle or buy a bottle.
Classes and comfort
Compared to the usual standard that most RTW travellers are used to, we can confirm that the trains on the Trans-Siberian routes are comfortable.
The level of comfort still varies and mainly depends on the class you choose, but also on the train itself. The newer premium trains are more comfortable and better equipped than the express trains.
We talk about this in detail in the previous chapter on train class and types of train.
Clothing
In winter, the carriages are heated really well, if not a little too much. In summer, they're usually air-conditioned, but not always, especially on express trains. Sometimes, on the same train, one carriage from one class has air-con when another carriage from the same class doesn't. So you'll be pretty warm. It's important to take this detail into account when buying your ticket.
Passengers worry less about their style and more about their comfort. Once settled in, everyone gets comfortable, like a lazy Sunday at home. People walk around in sweatpants instead of jeans, especially in the evening. Almost everyone wears flip-flops, sandals or even slippers.
Of course, if you plan on going out on the platform, you'll need warm clothes at hand.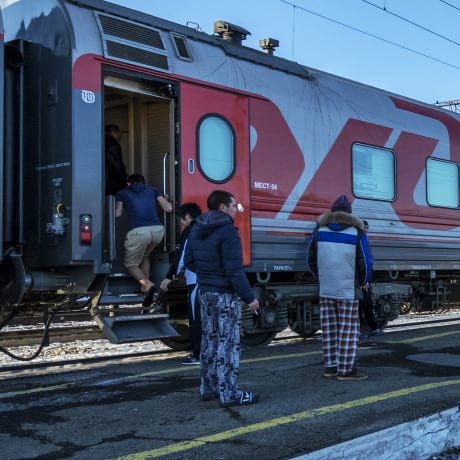 These Russians stay in their pyjamas for a short train stop
Electricity
The sockets are the same C / F type found in most European countries.
Here is the C type, so you'll problably need an adapter
No matter what train it is, you'll always find a socket in each 1st class compartment and another 110V one in all bathrooms, regardless of the class.
In 2nd and 3rd class, everything depends on the train. More often than not, there's only one socket in the corridor and opposite the bathrooms where you can charge your devices and keep an eye on them.
Newer trains, or those in the premium or "firmeny" class, are better equipped in this department and often have one, if not two, sockets per 2nd and 3rd class compartment.
If there's an emergency and you need access to electricity, it's acceptable to ask the provodnitsa if they can charge your phone for you in their compartment. Out of politeness, you should give them a tip, around $5, for their help.
Personal equipment for the train
Here are the suggestions that came up most often amongst the 75 RTW travellers who answered this question:
Earplugs
Sleep mask
Flannel / wipes
Cutlery, bowl, mug
Sweatpants
Flip-flops / sandals / slippers
Dictionary
Foreign language instruction book
Multi-socket plug
Small games, cards, mini checkers and chess
Books / e-reader
Battery
Head torch
Water bottle
Musical instrument
Alcohol for aperitifs
Culinary speciality from your country
Some food (especially instant cup noodles)
Food
On board, you can buy tea and coffee from the provodnitsa. A drinks and snacks seller sometimes passes through the carriages.
Passengers always make sure they have their own food. With hot water being free, many opt for instant noodles, but you'll also see dried fish, salads, sandwiches and cured sausages… You can get supplies from all the sellers who wait on the platforms. They sell snacks and even some dishes for a reasonable price.
During the longer stops in big cities (rarely more than 20 minutes), you'll just about have time to go to a kiosk in the station. It's a good idea to ask the provodnitsa for the green light and do it "pronto".
Having a pic-nic on the communal table is the best time to socialise and share. It's not uncommon for others to offer you a bit of this or that, a glug of beer or a shot of vodka. Don't hesitate to do the same in return.
Otherwise, there's also the dining car option. But there isn't always one, particularly on lower class trains and shorter journeys. Sometimes, it's just a buffet car. On Trans-Siberian, Trans-Mongolian and Trans-Manchurian trains, the restaurant on-board is open from 10am to 10pm and they serve basic food that changes depending on the country you're in. The menu costs around $10 to $30 (£10 to £20), but you can only pay in the local currency. The dining car is changed at border crossings. In Russia, on the menu you'll find potatoes, soups and escalopes, ravioli or small stuffed pasties, whilst the restaurant on Mongolian railways serves rice and mutton. The Chinese company offers a unique menu, often consisting of several small dishes. In Russia, waiters and waitresses are usually tipped, around 5 to 10% of the bill.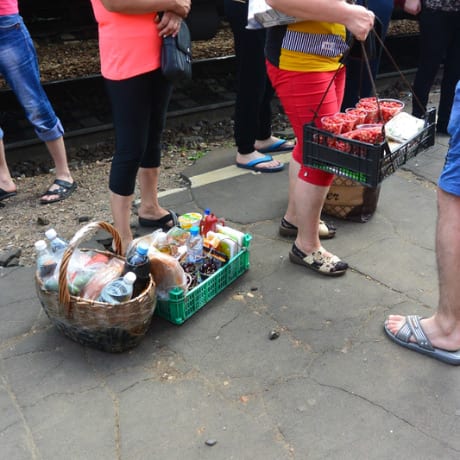 Seller on the platform
Credit: Lea Briez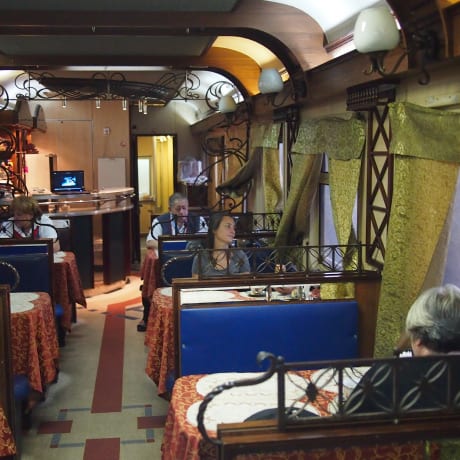 Dining car on a Trans-Mongolian train
Is it problematic if I don't speak Russian?
Very few people speak English in Russia. There aren't as many foreign tourists on the trains, especially outside the summer months. Off-season, there's a good chance you'll be the only one in your carriage and will therefore attract quite a crowd. People will be curious and try to talk to you.
Like anywhere, it's always a good idea to be able to speak the local language, at least a little. Trans-Siberian trains are the ideal place to learn and practice.
We advise you to take a Russian language instruction book, or at least a dictionary or phrasebook. And, of course, the least you can do is learn to decipher the Cyrillique alphabet.
Nowadays, electronic translations on our phones are pretty high-performance and extremely handy. You can download Google Translate and use it offline. It's easy and it's free – take a look at this tutorial.
If you want to socialise and overcome the language barrier, we strongly recommend bringing food and beverage specialities from your country to share with others, having a few photos to show, taking a musical instrument that's not too bulky and some simple games.
Alcohol
Alcohol is banned everywhere, except for the dining car, where it's sold and can be consumed there.
In reality, nobody sticks to this rule.
We even advise you to bring something to drink with your compartment buddies who'll most likely get a bottle out at some point as well. Of course, abusing it and behaving "inappropriately" runs the risk of getting a fine and being kicked off the train.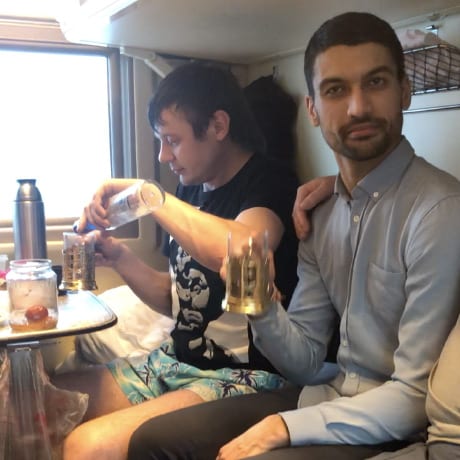 Vodka aperitif on the train
Crédit : Anice Khomany
Games
Reading is a great pastime on a train, but not really a way to open up to others.
For that, there's a tried and tested method: playing games! The most popular Russian card game is Durak, and we suggest learning it here.
Feel free to brush up on the rules of your favourite card games. You won't regret taking a basic little game with you like Doodle or mini chess and checkers.
Luggage
Everyone in all classes has a 35 kg luggage allowance and up to 50 kg in 1st class Russia. On domestic routes in China, the limit is 20 kg. But you'd look like a hawker if you carried that much weight in your backpack.
Buggies and other baby equipment aren't seen as luggage and therefore aren't taken into account.
The bottom bunker lifts up like a trunk and you can store your luggage in it. You need to get a small day bag ready with all the essentials for the trip.
Hygiene
Whatever the class (with some rare exceptions) the sanitary facilities are shared by the whole carriage.
The ends of the carriages are equipped with sanitary facilities (toilets and sinks). The toilets are western style. The area is regularly cleaned and everything's in order. The provodnitsa ensures that there's always toilet paper available.
There isn't a shower. The best way to maintain an acceptable level of hygiene is to go to the facilities in flip-flops and wash yourself with a washcloth or wipes. You'll find hooks to hang your clothes on.
Safety
There aren't any specific safety issues on the trains. To avoid theft, it's best to take some basic, common sense precautions. Keep your ID, money and valuables in a bag near you.
You're never protected from unfriendly or sometimes drunk bunk neighbours. In this case, being in a closed 1st or 2nd class compartment isn't very safe. The provodnitsa is always there to help you sort out these kinds of problems, if they get too serious. The best way to avoid them is to go for 3rd open-class which looks like a big dormitory. Being visible to everyone is more reassuring.
Smoking
Smoking is forbidden on the train, although a few people are occasionally seen smoking very quickly in the connecting areas between carriages. You can smoke on the platform when the train makes a stop.
Internet
It's quite surprising, yet from time to time you get 3G on the train, sometimes in the middle of nowhere and more often around cities.