How many people dream about doing a RTW trip some day, but never actually do it? Indeed, it's extremely easy to find excuses to postpone such a plan, sometimes indefinitely. Here are the most common excuses.
It's too extensive
On average, a RTW trip costs $19,000 (£13,000), but this is only an average. Some RTW travellers manage to travel with a budget smaller than $8,000 (£6000), by limiting the number of plane tickets and choosing countries with a low cost of living. In some parts of the world, you can travel for less than $15 (£10) per day.
Even without having a huge salary, it's entirely possible to put money aside by limiting all your unnecessary expenses as much as possible: living in a flat-share or with your parents, getting around by bike or on public transport, limiting your nights out to bars or restaurants, stopping smoking… It's all a question of priority.
It's too dangerous
When you watch the news on TV, sometimes you feel that you live in a world so hostile that you should never leave your home. The Travel State Gov and Foreign Travel Advice websites are just as scaremongering. Of course, certain areas or countries should be avoided. But, in the end, there aren't very many of them.
It is in fact a fear of the unknown. The language barrier is scary. But in reality, in most countries of the world, you can travel with just basic safety rules. Amongst the thousands of long-term travellers who set off each year, very few of them are victims of problems that genuinely endanger their physical integrity.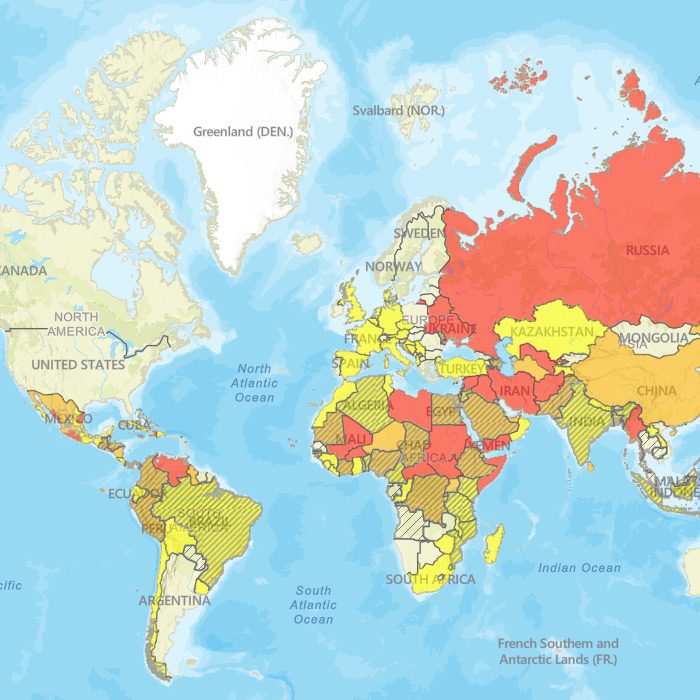 The world security levels for travellers
Credit : travelmaps.state.gov
It's bad form y career
Employers don't see a RTW trip as a sign of a lack of motivation. Quite the opposite, it's often a positive point on a CV. Generally speaking, someone who has done a long trip shows initiative, knows how to handle stress and has a good ability to adapt. Employers like this. Most RTW travellers find work fairly quickly on their return.
You can also take sabbatical leave and be sure to return to your job when you get back. A RTW trip is also a good opportunity to mull over a new professional project, such as starting up a business or becoming self-employed.
I don't even know where to start organizing
For some people, planning a RTW trip seems impossible. Indeed, it needs a bit of organisation, but nothing too serious. Our website is there to help you. Our themed articles usually answer almost any question you're asking yourself. Among them you could start by reading our month by month Pre-Departure To-Do List for a Round-the-World-Trip. If it wasn't enough you can always ask your questions directly to other long term travellers on our Facebook group
I'm scared of cultural shock
Stages of culture shock
Even if you're an open-minded person, dealing with poverty and an extremely different culture from your own can throw you off balance. Culture shock usually crops up a few weeks after arriving in a country. At first, you're fascinated by this new culture, but after a while, some things that seemed normal to you become intolerable. You feel betrayed and this generates feelings of frustration and anxiety. Don't worry, this is a normal process. To minimise this, really look into the countries you're going to visit, prepare yourself mentally and don't forget to stay in contact with your close ones.
I'll get homesick
You might have a little dose of the blues after a few weeks or months of travelling. You'll miss your close ones and you'll have a negative mindset about your trip. Some circumstances, such as a significant event in your family (birth, marriage, death…) or the fact that you're very attached to your close ones, can amplify homesickness. Travelling too quickly can also be the cause, because you'll lose your bearings. In this case, settle down for a while in a place where you feel good. Homesickness often goes away as quickly as it comes around.
Travelling is running away from reality
For some people, their desire to travel may be seen as running away from something. Sometimes your family will use this argument, as they're afraid to see you go so far away and for so long. The trigger that prompts you to do a RTW trip can come from a romantic break-up, the death of a close one, a firing… Travelling isn't the silver bullet to all your problems, but it can be a great source of personal enrichment.
I'll feel all alone
For single people, one of the biggest obstacles related to traveling is the fear of going alone. Many people think about finding a travel buddy before leaving, but in the end, very few do this. In fact, lots of RTW travellers, women or men, go solo. Paradoxically, the fact of travelling alone encourages you to meet others as you're forced to reach out to them. It might sound strange to you if you haven't travelled much yet, but when you go solo, in the end you don't spend much time alone. And what's more, if you're naturally more introverted, it's a great way to overcome your shyness.
We'll we be able to stand each other?
For couples, it's rather the opposite question: "Are we going to be able to live together 24 hours a day without losing it?". There, we can't guarantee you a 100% success rate. We've heard about couples who broke up during a RTW trip. But, it's actually quite rare and often there were already some underlying problems before they went away. In most cases, the couple come out stronger. The fact of having shared so many incredible experiences together creates a unique bond.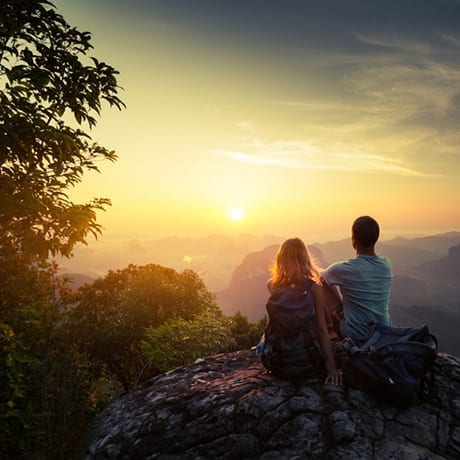 Finding your balance as couple when travelling
I'm worried about my children's education
Going away with children means no school, often for an entire school year. However, globetrotting families don't just abandon their children's education. In general, parents give a few hours of lessons per day during the trip. Sometimes, the teacher is even drawn by the activity and agrees to do a little remote monitoring.
I won't be able to handle the lack of confort
If you travel on a tight budget, like most long-term travellers do, you'll stay in some of the cheapest accommodation in the countries you visit. And cheap accommodation sometimes means a little less comfort. You won't necessarily have a shower in your bedroom. There'll be some bugs here and there. There might be some noise and a lack of cleanliness. If, after a while, the lack of comfort gets too much for you, think about spending a night or two in a slightly more upscale hotel. They're still affordable in a lot of countries.
I'll end up getting bored
If you keep going to one amazing place after another, you might end up getting a little bored after a while. But, it really depends on the person: some people continue to be wowed until the end of their trip, others less so. To avoid this weariness, it can be useful to have an aim, a project to see through that will give purpose to your RTW trip. Travelling slowly also allows you to immerse yourself in the culture of places you go through, and you feel less like you're ticking off one tourist attraction after another.
You'll have lots of intense and engaging encounters. This is arguably one of the most enriching aspects of your trip. But after a while, it can get tiring to leave your new relationships and have to constantly make new ones. This is one of the reasons why travellers usually slow down their travel pace after a while.
I won't be able to stomach the food
This topic comes up very often amongst travellers. Admittedly, depending on the country you visit, the culinary richness varies a lot. In some South American countries, for example, you'll have to get used to the famous "pollo con papas y arroz" (chicken with chips and rice) which features on a lot of menus. But travelling also gives you the opportunity to discover new flavours. Most countries are bursting with specialty dishes that are just begging to be tasted.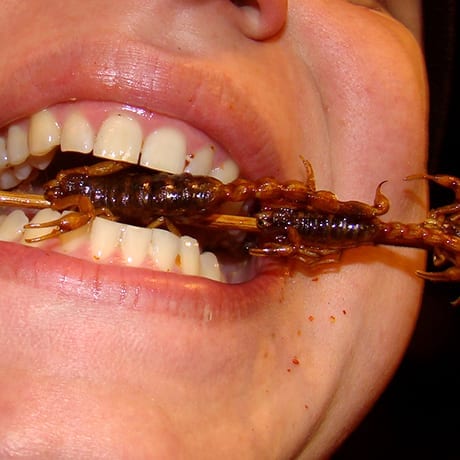 Another small skewer of scorpions for the road?
Credit : Wikimedia
I'll have health problems
You're not safe from a bout of traveller's diarrhea. It usually happens at the start of the trip. Your body will gradually get used to day-to-day life and you should have less and less problems with this during the course of your RTW trip. The vast majority of other health problems that globetrotters face are in fact similar to those you might have at home: ear infections, toothaches, sprains… In every country, it's quite easy to find a doctor or dentist who can treat you. Just be sure to take out good travel insurance to avoid ending up with a hefty hospital bill to pay.
I don't want to pollute
Most long-term travellers attach great importance to protecting the environment. We partly go away to enjoy awe-inspiring natural wonders. But, paradoxically, travelling by plane produces lots of greenhouse gases. However, you can reduce your carbon footprint by limiting the number of flights you take and by visiting a limited number of countries, not too far from each other. When inside a continent, pick land public transport as much as possible to get around. If you really want to cut your emissions by 100%, you can opt to do a RTW tour by bike or sailboat instead.
I'm scared of coming back home
You're going to spend months exploring the world. Each day will bring its share of new and unexpected situations which you'll have to cope with and find solutions for, which in turn will give you a great feeling of personal satisfaction. Depending on the person, returning to the fold and a certain routine can be easy or difficult. You'll have changed a lot, but your close ones will have stayed the same, which can create some friction. To avoid a bout of the holiday blues, the key is to stay active. If you're not returning to a job immediately, whilst waiting to find another one, have some plans that will keep you busy. Prepare for your return, then let time do the rest. Coming back home doesn't have to be a big deal.