The best way to minimize your impact on the climate is to travel by other means of transport than airplanes.
To do this, you need to have this mindset from the planning stages of your trip. The aim is to try and make your itinerary as continuous as possible, with minimal gaps, to be able to get around on land as much as possible.
If you're not ready to completely give up on airplanes, you can still limit the number of flights you take. If, instead of taking 14 flights like the average round-the-world traveller does, you manage to limit yourself to one flight between each continent, you'll already dramatically reduce your CO2 emissions.
For example, if you take a flight from London to Moscow, a flight from Beijing to Los Angeles and a flight from New York to London in economy class, you'll only emit 2.7 tonnes of CO2, which is six times less than the average RTW trip.
A plane consumes the largest amount of kerosene during landing and take-off. The shorter the flight, the more CO2 it emits per kilometre covered.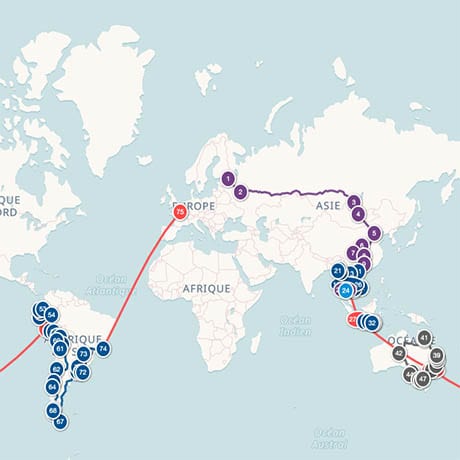 Low-carbon emitting sample itinerary
Therefore, avoid taking flights for short distances and flights with stopovers. Use surface (non-air) sectors as much as possible to limit the distance covered by planes within each continent.