Bike parts and components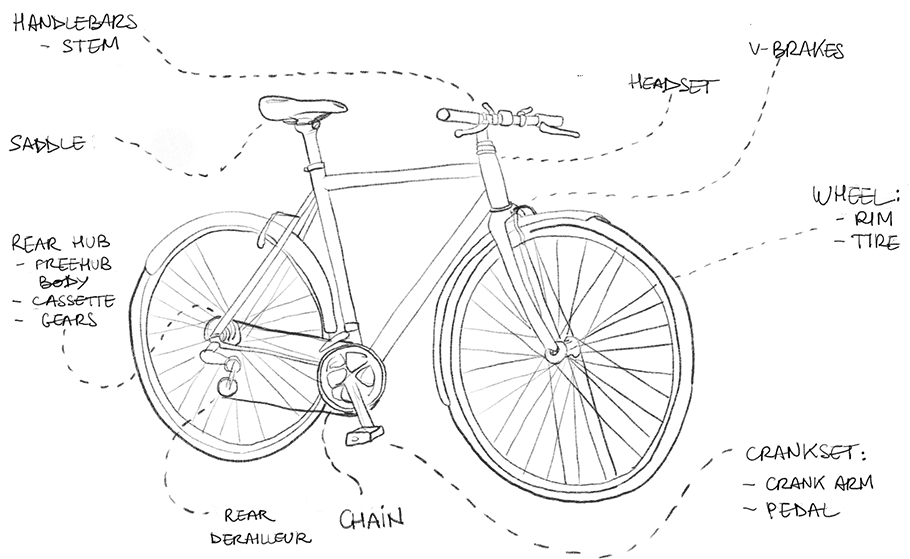 Rims
A double wall rim is best for strength. A single wall rim would be too fragile and a triple wall rim too heavy. It has to be aluminium or even duralumin. Steel braking is poor in rainy weather.
The rim is drilled with holes (from 32 to 48) to put the spokes there. The more holes there are, the less risk there is of a buckled bike wheel. A wheel rim with 36 holes is a solid choice. If there's a big problem, you'll be able to replace it without too much trouble. Bear in mind that those with more holes are harder to find.
The valve must be an automobile valve type (such as Schrader), that's the standard type these days.
Choosing the wheel rim width depends on that of the tyres. The most commonly chosen width is 26 inches.
With disc brakes, you'll need specific rims.
Steering and Handelbars
Good handlebards should be multi-position or with bullhorns, covered with self-adhesive cloth tape (such as Guidoline) and shoulder-width apart. Likewise, the stem should be short and tilted upwards so you don't have to bend down too much, the best would be an adjustable multi-position stem.
Spokes
Stainless steel is a must. For strength, use 2 mm spokes with glued spoke heads. Remember to check the spoke tension regularly to prevent the wheel from buckling.
Hubs
This is the central component of the wheel. The hub should be drilled with the same number of holes as there are spokes.
An internal-gear hub is a very specific type of hub that doesn't use a derailleur. In fact, the gear change mechanism is sealed and waterproof. You can even shift gears while stationary and you won't derail. The main flaw is that it's extremely difficult to repair. Removing the rear wheel is complicated. And, above all, it's very expensive and heavy. In a nutshell, if there's a component failure (very rare), you'll need to get a new one. The Rohloff model guarantees 100,000 km riding.
Brakes
Cantilever or V-brake brakes are the traditional brake pads. They need to be regularly adjusted and maintained, but it's easy. SwissStop brake pads (around $17) have a much longer life and work well in rainy conditions
Disc brakes. There are two types: hydraulic and mechanical. In both cases, they're much more efficient than traditional brakes.
Hydraulic disc brakes are the best. They don't require any maintenance. Unfortunately, they need technical knowledge and repair equipment that's particularly difficult to transport. If something goes wrong on the road, it'll be difficult to get out of it. However, while they're very sturdy, there's still a risk of an oil leak. But, with a good brand, this only happens very rarely.
Mechanical disc brakes are a little less efficient than hydraulic ones and they require maintenance. However, maintenance and repair are as easy as for V-brakes.
Watch out – for disc brakes, you need rims and a hub specifically designed for them.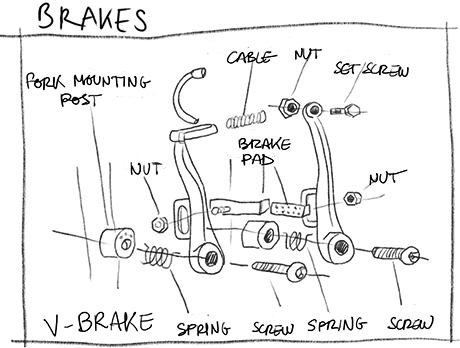 Drivetrain
Nowadays, the drivetrain case surrounds and protects the mechanism, axle and ball bearings. You slide it into the slot provided in the frame and that's it. It rarely causes problems.
The vast majority of long-term bike-travellers opt for a triple chainset (22/32/42 teeth) in order to have a larger range of gears for different conditions. It's always a good idea to be able to save some energy, and this can be done by using a lower gear ratio.
Pedals
In this field, there are two schools. Automatic pedals attach your feet to the pedals. This gives you the best possible power output, but requires specialised shoes that have SPD (Shimano Pedaling Dynamics) cleats (with some models you can also walk in them). The traditional plastic toe clips are safer and pretty straightforward to use.
Chain
The chain you go for will depend on the number of cogs. Chains require frequent maintenance. A damaged chain prematurely wears out the teeth on the cogs and chainwheel. To guarantee the chain's lifespan, you should ride carefully and start off with gentle gear changes, then gradually move into a comfortable position. You should also avoid crossing the chain too much, that is to say, placing it in the large chainring / sprocket position.
Derailleur
A classic derailleur is used by most travellers on long-distance trips, as you can change or easily repair them, and it's certainly cheaper. The alternative to a derailleur is the internal-gear hub.
Aside from general wear and tear, the main risk is falling. With panniers, the derailleur is quite protected. Without panniers, the risk of damage is a little higher. However, there are derailleur guards. We recommend these guards and they don't cost much at all.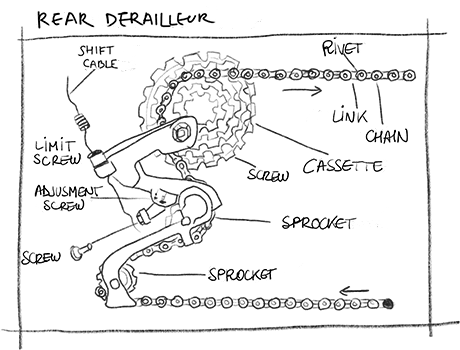 Derailleur shifter
There are twist grip shifters and thumb shifters. It's purely a matter of taste.
Inner tube
Schrader valves (the car sort) are absolutely crucial.
You also always need rim tape to protect the inner tube. It's important to always check that the pressure is okay, both for comfort and to avoid punctures and wearing tyres down prematurely.
Lighting
Lighting on a bicycle is mandatory in many countries and it's always a good idea to be visible, especially for safety reasons.
You can use battery-operated lighting, but that's another thing that you'll have to worry about. The best option is a dynamo light that is integrated into the bike's internal-gear hub. As it's sheltered from mud it works brilliantly and, the icing on the cake, you don't feel any extra effort when pedaling, which is obviously not the case with traditional dynamos.
Note that nowadays dynamo lights can also charge electrical devices via a USB, such as smartphones, cameras, MP3s, etc.
What's even crazier is that you can also store this energy in a battery to use for later. It's also a good idea to have a front-facing light that you can add when going through difficult passages like tunnels.
SON hub dynamos are great, but cost more than $200 (£150). A good, middle of the range alternative is the Shutter Precision SV-8, which comes in at less than $120 (£100).
There's a large variety of bike lights, from bog-standard ones to very high end ones (as strong as car lights).
Saddle
When you're about to spend thousands of hours in your saddle, you obviously want to be comfortable. So, you want to avoid nightmarish setbacks such as loss of sensitivity, impotence, prostate problems or even boils…
Opinions are divided, some go for a Brooks leather saddle which must be worn in over time. Others like really spongy seats or padded seat covers. Ergonomists recommend one type of saddle that postmen have adopted. This is the Proust saddle. This mobile saddle allows smooth pelvis motion which certainly shouldn't, it seems, remain stationary. The nose of the saddle is short, unlike the usual long nose that presses in places it really shouldn't. So, in theory, a saddle like the Proust would be the best option for your body. But, using it changes our habits. Therefore, it takes a little while to get used to it.
Tyres
Comfort is highly influenced by good tyres. For a touring bike, we'd go for 26 inch tyres with a width of 35 to 45 mm that adapts well to the rims. You can easily find these tyre sizes. We advise you to get top-of-the-range, puncture-proof tyres.
You can bring foldable spare tyres to make sure you always have good-quality tyres to hand. On average, a decent tyre is changed every 10,000 km. To increase the lifespan of tyres, the front tyre and the rear tyre can be swapped regularly.